Lively. Families. Cosy. BBQ. Outdoorsports. Make your own pizza.
During summer holidays (July and August) there are mainly families on our campsite. Children meet each other at the playground or during our
pizza evening
.
The terraces and the spacious terrain make you feel being in nature and not on a crowded campsite.
Every Sunday we have a 'pot d'accueill'. A drink where you'll meet other people and the place you could sign up for outdoor activities, organised by the outdoor companies of this area. If you would like to go rafting, climbing, paragliding, canyoning, something for everyone.
Every week on Sunday we have our own pizza evening, Here you make your own pizza! We make sure all the preparations are done and a lot of ingredients are at your disposal. One member off the campsite will hell you by baking a gold brown pizza in 5 minutes. Bon apetit!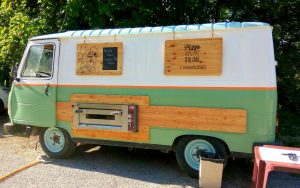 300 days of sun per year
cosy ambiance
plenty of outdoor possibilitys
personal attention
Space. Silence. Lots of sun. Nature. Flowers.
f you like silence and space and listen to the sound of running water, June and September are the months to come to Puy Saint Vincent. In June the flowers bloom and the nature comes up, in September the leaves of the trees change colour.
The campsite opens the first of June, spring is everywhere by then. Everything colours green in a quite surrounding. During the day temperatures goes up to 25°C, but during the evening the temperature drops (sometimes even down to zero).
For people who like flowers or birdwatchers june is the best period. Almost empty walking trails makes nature even more spectacular. The one thing you must consider is that the alpine walking cols might still be unaccessible due to the snow.
The more busy high season starts around the 15th of july till mid august.
amazing nature
Flower meadows
Bird watching
Personal attention
Quiet