The Hautes Alps are situated in the Provence Alpes Cotes d'Azur between Gap (to the south west), Grenoble (to the north west) and the Italian border (to the east). OUr campsite is situated directly at most of the major summer climbing crags. The area is referred as the Southern Alps or the Ecrins and enjoys better weather than the Northern Alps around Chamonix and it is considerably quieter. In fact our area claims to have 300 days of sunshine a year, stays a lot drier, and offers year-round rock climbing by choosing your crag carefully.
Popular crags
The area is dominated by the 4,000m+ peak of Massif Des Ecrins plus several other 3,000m+ peaks, giving 1,000's of Alpine routes across all grades. There are also around 2,500 sport routes from single pitch to multi-pitch routes up to 600m long - of which the majority are well bolted. This climbing is mainly situated in the Durance Valley around the towns of Briancon, Ailefroide, Puy St Vincent, L'Argentiere-la-Bessee and Guillestre, and includes over 75 crags. All of these crags have solid rock with a wide choice of grades to choose from.
Many different styles
The type of rock here is very varied from limestone, conglomerate, quartz, gabbro to granite and gneiss - offering many different styles of rock climbing. There is also an excellent bouldering area near Ailefroide. The map below shows the major crags in the area and the table opposite shows a selection of the popular crags.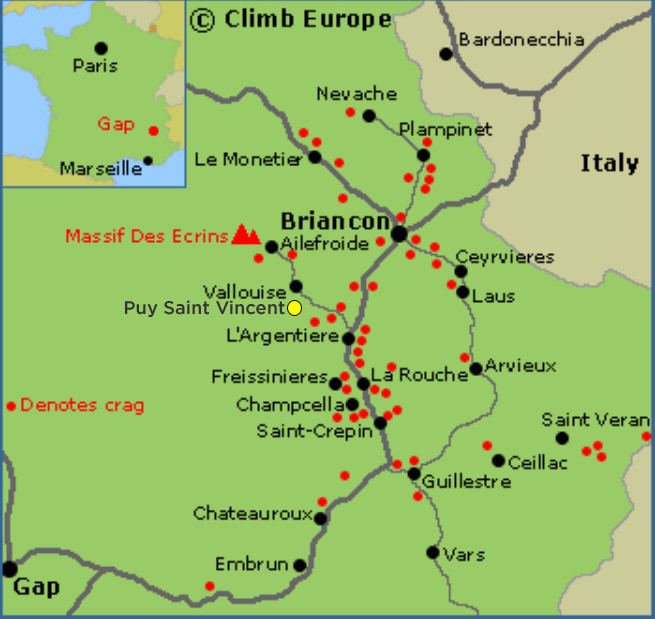 Source: Climb-Europe